Posts Tagged "health"
October 25, 2022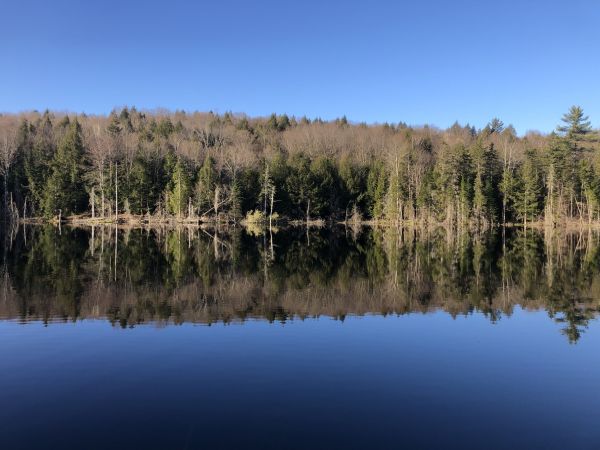 Our 8th grade class recently returned from its annual class trip, a 10-day wilderness adventure in New England. This 8th grade trip is a rite of passage for students, the culmination of progressively longer and more adventurous excursions undertaken by the class teachers and students over the years.
At Rudolf Steiner School of Ann Arbor, we strongly believe these class trips are a vital part of the student experience. They foster a connection with the outdoors, offer opportunities for teamwork and class camaraderie, give some students an experience they might otherwise never have, and teach responsibility and self-knowledge. They also provide moments of joy, life-long memories, and shared experiences that further cement the bonds among the students.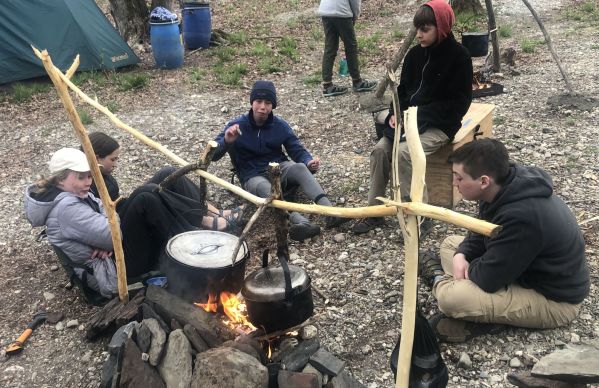 Typically, a class's first overnight trip takes place in 3rd grade, where the class spends a night at a farm. This supplements the in-class work of 3rd grade, where students learn about farming, shelters, and ways people have lived and survived throughout history. By the time they reach middle school, the students have been on several overnight trips. In the middle grades, they spend a few nights in a dark-sky area as part of their astronomy studies and travel to Hocking Hills, Ohio, to further their lessons in mineralogy and geology.
The 8th grade trip is a wilderness adventure experience. RSSAA has generally used two organizations to help us with this experience: the Northwaters & Langskib camp based out of Temagami, Ontario or Kroka Expeditions, based out of Marlow, N.H. Each offers a program of canoeing and camping that challenges the students physically; requires them to work together to set up camp, cook food, clean dishes, take care of the canoes, etc.; and provides an opportunity for self-reflection, community sharing, and social and emotional growth. These trips are usually undertaken at the start of the school year, or even before the school year officially begins, as they are an excellent way to launch the class into their last year together before high school.
As an 8th grader teacher, I have experienced both the Northwaters and Kroka experiences — both were incredible and so important for my students. Last year, my class went to Kroka and paddled down the Battenkill River from Vermont to New York — the same path taken by this year's group of 8th graders. My class enjoyed the challenges posed by canoeing along a swift-moving river — we had to navigate rapids, hairpin turns, fallen trees, lots of rocks, and ever-changing water depths. Despite the challenges, there is little to compare to the feeling of navigating your way down an isolated, scenic river, seeing birds and other wildlife on the shores, discovering the best place to pitch a tent, staring a fire and making food for your class, and chatting with friends by the fire as the stars emerge.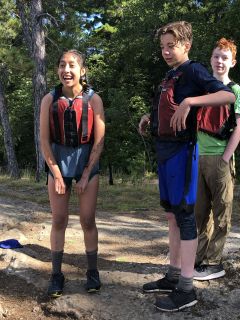 As is the intent of a rite of passage, when a class returns to school following these trips it is evident how much the students have grown, both as individuals who confronted and overcame their own personal challenges on the trip, and as a group who discovered strengths and vulnerabilities in their classmates they never knew before and who return with a shared experience that belongs only to them. Each year there is inevitably a student or two who do not want to take on the expected rigors of the trip, but upon return they are always glad they did and many say they now feel like they could accomplish anything!
While the 8th grade trip is in many ways the culmination of these experiences in the grades and middle school, these types of trips continue for students at our high school. Ninth graders end their freshman year with a week at the Community Farm of Ann Arbor, while 10th graders take the knowledge they learned during their sophomore year for a week-long land surveying expedition at Camp Lookout on the northern shores of Lake Michigan. Seniors wrap up their RSSAA journey with two amazing adventures: a Zoology trip to Hermit Island, Maine, where they explore the flora and fauna of the ocean and tidal pools; and an adventure in Venice, Florence, and Rome, where they explore the artists, writers, and thinkers they learned about in the classroom for so many years.
These trips are a cherished and important part of our curriculum. I believe they play a central role in helping our graduates to be well-rounded citizens of the world, with the self-confidence to take off on their own life adventures.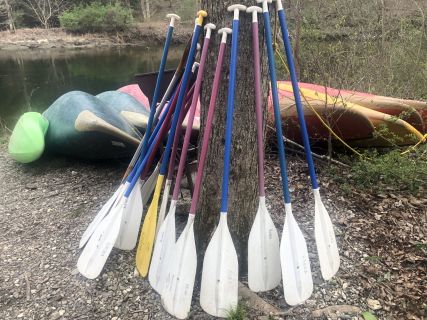 October 04, 2022
A long-time favorite in our school community and sold in our school store, Weleda products are on the cutting edge of regenerative farming and social responsibility, as well as being popular in the celebrity crowd. Here's a little history of the products, the mission of the company and its ties to Rudolf Steiner, founder of Waldorf education.
Originally posted in full by Chantel Tattoli in the New York Times on August 20, 2022
Calendulas look like daisies, smell like marigolds and possess powerful phytochemicals that can mend skin. At a garden in Schwäbisch Gmünd, Germany, Astrid Sprenger's blond bob and turquoise pendant swung in the sun as she picked the fiery orange flowers by hand.
"It's one of the only plants you can put on open wounds," she said.
Dr. Sprenger, 56, who holds a Ph.D. in agricultural science from the University of Hohenheim in Stuttgart, is a head gardener at Weleda, a Swiss company perhaps best known for its ultrarich Skin Food cream. Sold in parrot green tubes, the moisturizer costs $12.49 an ounce.
Though Skin Food has gone by that name only since around 2010, its formula dates to 1926. In addition to extracts of calendula, it also contains concentrated forms of chamomile and wild pansy, as well as sunflower seed and sweet almond oils and beeswax.

The Skin Food line has expanded to include Skin Food Light, a less dense version of the original cream, along with a lotion and body and lip butters. According to Swati Gupta, Weleda's head of e-commerce in North America, in 2020, the company sold a Skin Food product every five seconds. Weleda is developing new Skin Food cosmetics, including some for the face, with plans to debut them next year.
Farm to Tube
The plants used to make Skin Food and Weleda's other products are grown worldwide. In Schwäbisch Gmünd, the 50-acre plot that Dr. Sprenger oversees runs wild-ish with some 260 species that include stonecrop and mistletoe. It is one of eight gardens owned by the company, which is based in Arlesheim, Switzerland, and sources from an additional 50 partner growers.
Occupying some 60,000 total acres, the web of gardens, which spans five continents, is roughly 70 times the size of Central Park.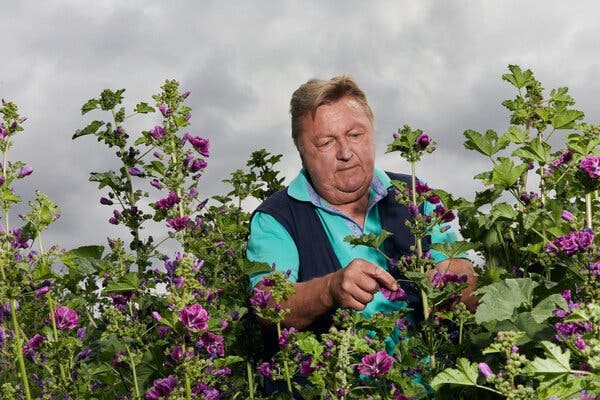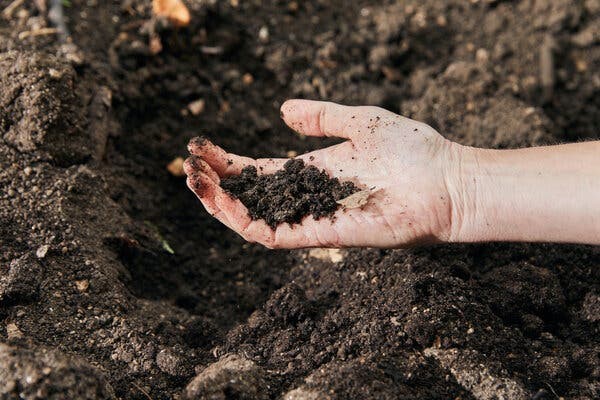 Last year, Weleda achieved B Corp certification, meaning its operations meet certain social and environmental criteria. It is also certified by the Union for Ethical BioTrade, which sets best practices for sourcing ingredients.

The gardens it owns are certified by Demeter, an organization that maintains the standards for the agricultural practice known as biodynamic farming, which Dr. Sprenger compared to regenerative farming — an organic method that focuses on soil health and forgoes elements of industrialized agriculture such as synthetic chemicals — but "on a higher level."
The practice demands strict standards for biodiversity and soil fertility; at Weleda's gardens, topsoil is not tilled and crops are both rotated and intercropped, or grown together in the same plot, with three to 10 other species. Another tenet of biodynamic farming is composting. "It's not like poo," Dr. Sprenger said as she plunged a trowel into a dark mound that disgorged bugs and a heady herbal odor. "It's nice!"
The compost she was sifting through contained homeopathic additives, or preparations, made from fermented plants including yarrow and valerian. Preparations are also a requirement of biodynamic farming, and others are sprayed directly onto soil or crops. One, called horn manure, does include excrement. It is made by packing cow dung into cow horns that are buried underground for the winter and dug up in the spring; the dung is then extracted from the horns, swirled into rainwater at body temperature and flicked at the soil with a brush, not unlike how a priest sprinkles holy water.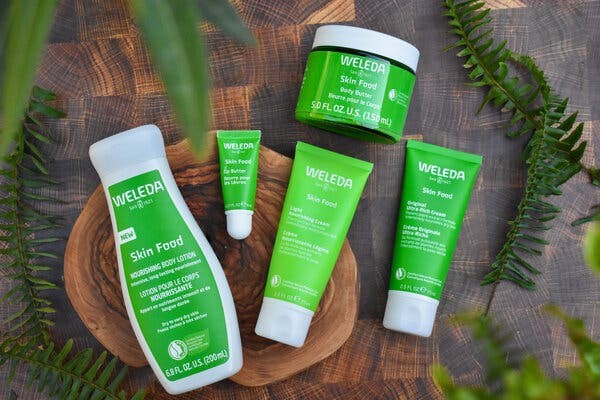 Some growers see preparations as magic potions of sorts, claiming they sensitize soil to cosmic rhythms. Followers of what's known as the biodynamic calendar sow, plant and reap crops based on the positions of the sun, moon, planets and stars. (While not necessary for Demeter certification, some of Weleda's gardens operate this way, but not the one in Schwäbisch Gmünd.)
More demonstrable benefits of the preparations, Dr. Sprenger said, include fungus control, increased microbial diversity, nitrogen stabilization and the ability for soil to sequester larger amounts of carbon.

Calendulas grown in Schwäbisch Gmünd are used to produce Weleda's Comforting Cream Bath cleanser for babies. "In high season, we encourage our office employees to help with the harvest," Dr. Sprenger said.
Those used in its Skin Food products are farmed biodynamically near Frankfurt and transported to a lab in Schwäbisch Gmünd, just five minutes by foot from the garden, where they are heated in sunflower-seed oil at around 155 degrees Fahrenheit, cooled and pressed into a concentrate that is then incorporated into various formulas.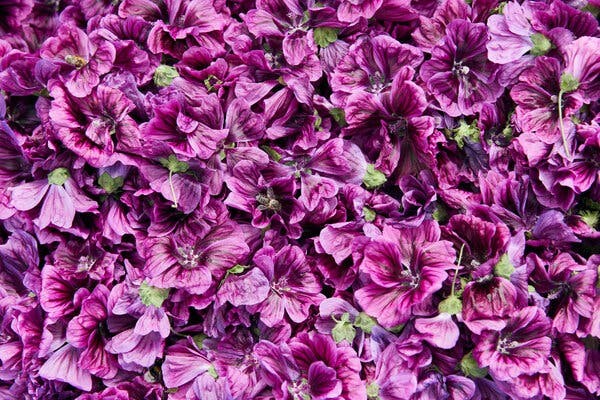 Steady Growth
Weleda's first gardens, in Switzerland and Germany, were in operation at the time it was formed in 1921 by Ita Wegman, a physician, and Rudolf Steiner, a New Age philosopher who two years earlier opened the first Waldorf, or Steiner, school. Then known as Futurum AG, it has since inception produced pharmaceutical as well as cosmetic products (only the cosmetics are sold in the United States).
Both the company and the school were influenced by the spiritual science movement anthroposophy. Also founded by Steiner, its adherents believe that everything in nature is interconnected. Before he died in 1925, Steiner gave a series of lectures on alternative agricultural techniques, which laid the groundwork for what later became known as biodynamic farming, said Peter Staudenmaier, an associate professor of history at Marquette University in Milwaukee.
Steiner and his followers wanted "to heal the earth," said Dr. Staudenmaier, who specializes in the political history of environmentalism. "Their mission was to regenerate the soils that had been abused and despoiled by industrial processes," he added.
Steiner's thinking about agriculture continues to inform that of the company he co-founded, which in 1928 was renamed Weleda in a nod to Veleda, a Germanic priestess and healer who lived during the first century A.D.
"One of the most important things that we as a society can do to combat the effects of climate change is more regenerative agriculture," Rob Keen, the chief executive of Weleda in North America, said.
"Select Steiner teachings are not reflective of Weleda's guiding principles upon which we were founded more than 100 years ago and by which we continue to be guided today," he added.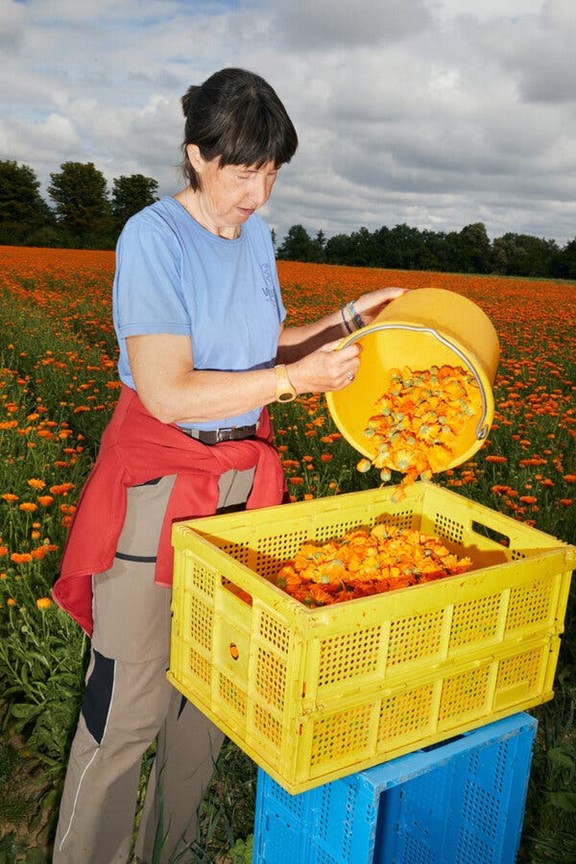 By 1931, five years after it introduced what would one day be called Skin Food, Weleda had opened an arm in the United States. Ahead of and during World War II, the company conducted business with the Nazi Party in Germany. It later made an effort to reconcile with this period in its history by issuing an apology to Holocaust survivors and opening its archives for academic research. Dr. Staudenmaier explored the Nazis' connections to Weleda and other biodynamic growers in a 2013 research article. "Like any historian, I do wish that a company like Weleda would pay more attention to the complexities in its own history," he said.
Domestically, its products were mainly sold at independent pharmacies and health food stores until 1984, when the grocer Whole Foods began to stock them.

According to Ameena Meer, who formerly worked as a creative director for Weleda in North America, Skin Food started to become more widely popular in 2017, around the time that consumers began to seek products that promised "dewy, glowy, glassy, glazed" complexions. The next year, Ms. Meer developed a marketing campaign to modernize Weleda in the United States, where she said it had a reputation as being old-fashioned.
Both the campaign and the renewed interest in Skin Food helped to usher in a "cool comeback" for Weleda, said Ms. Meer, 59, who lives in Los Angeles and now works as a wellness consultant and psychic. Major retailers that currently sell its products include Amazon, Target and, as of last year, Walgreens and CVS.
Food for Thought
"It's thick," Morgan Jerkins, a writer in New York, said of Skin Food.
"I feel like if I wear Weleda Skin Food, I'm going to be OK if I walk to the subway in February. I feel like it's going to put up a fight." Since she started using the product, Ms. Jerkins, 30, added that she has not had a need for foundation.
Skin Food also has fans in celebrities such as Gwyneth Paltrow and Sharon Stone. "I always have it in my set bag," said Fiona Stiles, a makeup artist in Los Angeles who works with famous clients. "It's so humectant!"
Ms. Stiles, 51, has carried the cream in her kit for 15 years. She particularly likes to use Skin Food as a topper, applying it with her palms onto the apples of clients' cheeks for "a very even highlight."
The product smells citrusy and, vaguely, of vanilla and bell pepper. "I imagine that people who love Campari, Ricola cough drops and the fragrance Bistro Waters, by the perfumer D.S. & Durga, tend to gravitate toward its scent," said Porochista Khakpour, a writer in Los Angeles. Ms. Khakpour, 44, first discovered Skin Food more than a decade ago, in Berlin. "It's deservedly iconic," she added. "If someone is carrying it, I think they're in the know."
This year, Weleda promoted the Skin Food product line as part of a campaign to raise awareness of its agricultural practices. Called Save Earth's Skin, it features the model Arizona Muse, 33, as its face. Ms. Muse, who lives in Ibiza, is also the founder of Dirt, an organization that funds biodynamic farming projects.
As a child, Ms. Muse attended Waldorf schools in Santa Fe, N.M., and Tucson, Ariz. She credits her interest in agriculture to her mother, who introduced her to Steiner's anthroposophy movement, from which biodynamic farming was born.
"This is such a deeply protective approach," Ms. Muse said of the method.
In the Save Earth's Skin campaign, she compares soil to human skin, encouraging a twist on the golden rule: Do unto the planet's dirt as you would your own epidermis.
June 21, 2022
Is it safe? Will they make good choices? What if something happens? Will they meet nice people?
These are just a few of the questions that might pop up when considering allowing your teen to travel - and they're all valid and worthy of discussion. But a question that might be even more important is, what will they learn? For parents, the educational aspect of travel is most likely the biggest reason why they send their kids on an overseas educational program with their school, like our senior trip to Italy. But what about travel with non-school groups - or even solo travel - for teens?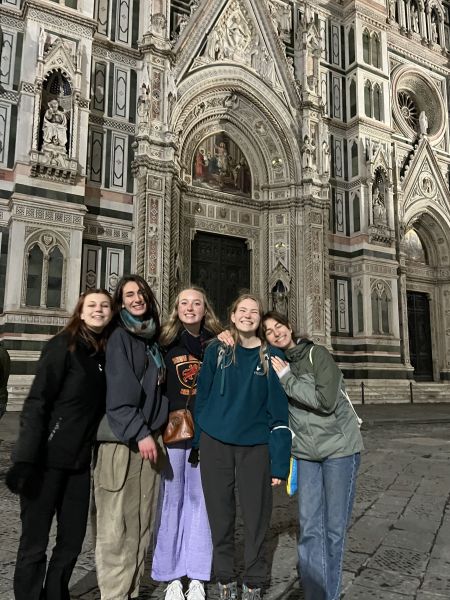 Traveling is the moment when the textbook comes alive, when everyday objects look completely different and when common greetings sound exotic. For teens, traveling abroad is exhilarating, stimulating, frustrating and—whether they're looking for it or not—extremely educational. Experts say that the educational benefit for teens goes far beyond learning historical facts, architectural styles, conversational phrases and even a working knowledge of a foreign subway system. Travel is an excellent way for students to develop the vital skills like critical thinking and problem solving that will enable them to compete in an increasingly globally interdependent economy.
"I think the biggest thing travel does for teens is to help them to see beyond their own somewhat limited world and to see how other people live," says Christine Schelhas-Miller, who taught adolescent development at Cornell University for many years and is the co-author of Don't Tell Me What to Do, Just Send Money: The Essential Parenting Guide to the College Years.
Travel is particularly good for developing critical thinking as it forces teens to examine their own values and beliefs from the perspective of a different culture. They become aware of aspects of their lives that they have taken for granted and never examined. - Christine Schelhas-Miller
Improvement in critical-thinking skills can translate into big gains in the classroom. Travel can help students develop all of what educators call the 4 Cs (critical thinking and problem solving, communication, collaboration, and creativity and innovation), says Dr. Jessie Voigts, who has a PhD in international education and runs wanderingeducators.com, a global community of educators sharing travel experiences.
"Travel encourages critical thinking (especially when comparing intercultural differences), problem solving (in so many ways—money, transportation, food, events, cultures, languages, etc.) and communication (both verbal and non-verbal, which is key to any communication event, globally)," says Voigts, author of Bringing the World Home: A Resource Guide to Raising Intercultural Kids. "It also encourages collaboration (working together with your travel partners or locals to fulfill your basic needs), creativity (finding a creative solution to a travel problem) and innovation (whether it's a way to hold your luggage together with whatever is on hand or finding a new route in an unfamiliar town past a parade to get where you need to go)." And, through these experiences, teens are becoming more flexible and adaptable along the way, two more skills that are essential in the 21st Century's virtual workplace.
Our kids face an entirely different world than that of their parents and grandparents. They need more than school and college to get a job. They need to learn flexibility, adaptability, and other skills to succeed in today's global economy. Our coworkers and neighbors are no longer just next door, but all around the world.
Traveling—not just being a tourist, but smart travel—helps teens learn flexibility and adaptability, and creates an open-minded worldview that allows teens to work well with others anywhere in the world." - Dr. Jessie Voigts
It may take teens—and their parents—some time to realize that they have gained all of these skills from their travels abroad. But it probably won't take anyone long to figure out that these teens have learned a lot about something very close to home: themselves. Unexpected events always happen to travelers and, when faced with these events without an adult to guide them, teens develop problem-solving skills and confidence in their abilities to manage their lives. When teens travel, they expect to learn so much about the other country, but may also make some important self-discoveries along the way.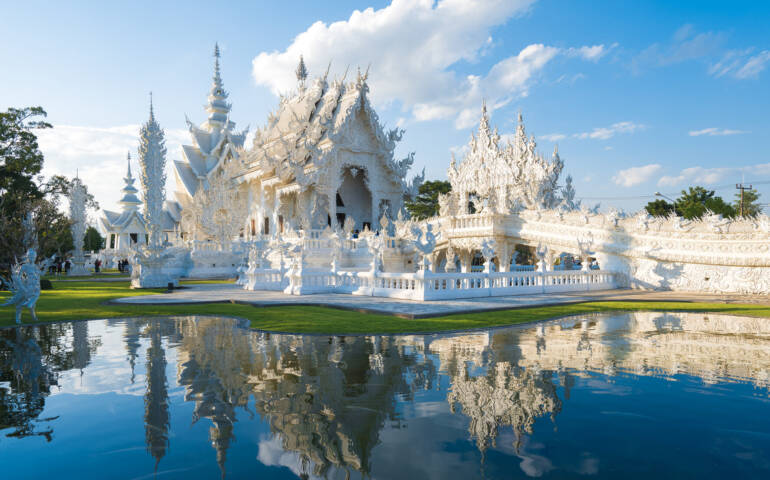 Some Life Benefits of Traveling as a Teenager:
Learn How to Save and Budget Money - Sure, learning about money starts at a young age, but there is real-life experience and deferred gratification in saving up all school year for an extended trip that a teen can proudly say that they paid for. Plus there's the skill of budgeting throughout the trip.
Ability to Make an Itinerary - Itineraries are just as dynamic as the places visited and this will reflect upon your teens travels no matter where they venture. They'll build flexibility when they need to make and change their itinerary so they can have the best experience possible.
Build Problem-solving Skills - World travel wouldn't be complete without the occasional bump in the road. Dealing with problems like pouring rain when the forecast predicted sun or a broken suitcase zipper will make them a savvy problem-solver as they work through predicaments proactively and positively rather than allowing them to spoil the trip.
Become an Independent and Responsible Young Person - When traveling around with family and friends, it's super easy to follow their lead and let others take care of things like tickets, transportation, meals, itineraries, etc. – The list goes on and on. Traveling without the familiarity of people from home means your teen will need to take more responsibility for their own actions, as well as look out for those they are with. This means showing up prepared, making the effort to participate, and being accountable throughout the trip.
Break Stereotypes and Experience New Cultures - Unfortunately, people are often quick to believe stereotypes about other countries and their cultures, especially the negative ones. This is true of Americans' views of overseas destinations, as well as other countries negative perceptions of Americans. When traveling, your teen will have the opportunity to break this cycle by keeping an open mind and an open heart and sharing everything that it means to be a global citizen.
While every family and every teen is unique, when it comes to travel it's possible the pros outweigh any cons. Traveling teaches meaningful life skills, provides an opportunity to meet new people, facilitates cultural appreciation, and teaches the ability to adapt to new environments. Travel is a fantastic way of gaining these unique experiences which develop youth into more well-rounded citizens, all while having fun along the way!