Posts Tagged "field trip"
March 01, 2023
History through Architecture is a culminating course in the K-12 journey of Waldorf Education. It is a sweeping survey that traces the development of human consciousness over millennia from the earliest times to the present, including speculations about what the future may hold for our collective lives on Earth. Through this year's special block, our 12th Graders explored their unique places in the long line of other human beings who have come before them. They began to see themselves with new eyes as they related to the larger human story.
The vehicle for their experience is what we call Architecture…a kind of "memory chip" that holds a rich tapestry of data points logged from all aspects of humanity – iconic facets that have imbued the "bricks-and-mortar" of buildings, cities, landscapes and human-made systems with the zeitgeist or spirit of the age in which they were manifested. Specific teachings in this block have been artfully designed to showcase how human ingenuity advanced with each succeeding generation. New ideas imaginatively evolved to produce structures, materials, energy and metaphysical awareness that created all our structures from simple barrow mounds of earliest human settlements to the soaring skyscrapers of our modern world. All of them imbued with an inner force – a seeking for higher awareness – what we term today a "spiritual experience".

Colorful, hand-drawn chalkboards of chronological, step-by-step timelines showed how passive and dynamic forces of compression and tension moved across time to shape clay, stone, brick, metal, glass and myriad other materials and processes into the infinitely varied forms that we see in our material world. Concepts of "boundary" and "monument" drove the construction of fences, walls for protection from weather and wild animals, but also marked personal identity – whether for an individual or for tribes and clans, where the "I" became a "we".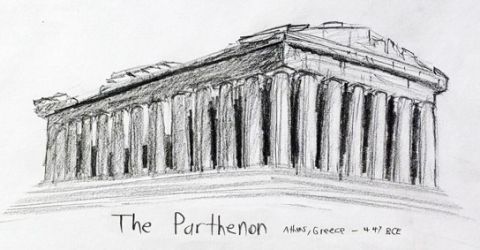 The students hand drew and wrote the salient points of the block into their Main Lesson books. Applying their innate Creativity and Imagination, they recorded the content of their learning. Some exercises were given to demonstrate how historic structures could be shown in plan, section and in three dimensions for learning how buildings are represented.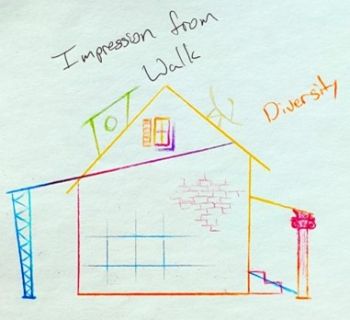 Other exercises engage the students' personal observations and imaginations. For example, an "Impression/Expression" exercise was assigned for an outside walk taken through the Pontiac Trail neighborhood during one class period. Each student observed a particular perception along the way (a house, a tree, the rhythm of structures, a door or window detail, etc.) that impressed them. Returning to school, some form of expression was made from memory that described the nature of the student's experience.
We contrasted challenging Thinking of the block's first week with a Clay Handwork exercise that explored the curved line under the force of compression that freed the student's imagination.
In the second week, Wooden Sticks Handwork created a new experience reflecting the advent of the straight-line forces of tension in history that led to developing open-structured trusses.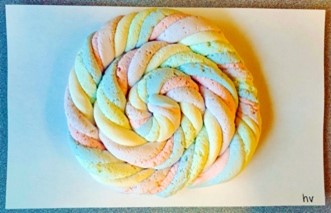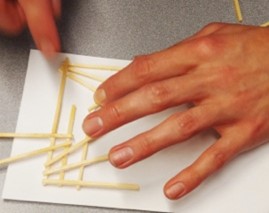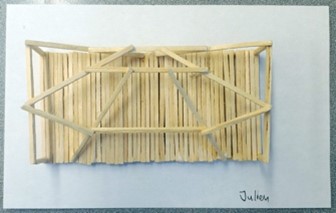 Toward the end of the block, after experiencing the great diversity of human structures built throughout history, students were given a final project where they were asked to design their own "architecture". The day the assignment was given, this year's Seniors immediately jumped into action, eagerly discussing possibilities and ideas for their individual or group to develop.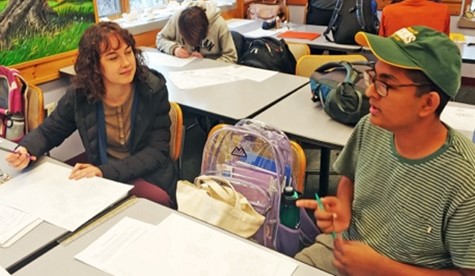 Over several days, students collaborated, talking and sketching ideas until a final design became clear. Every student prepared a statement, drawings, or a model to describe their vision. They then stood before their classmates and presented unique designs which inspired thoughtful questions and comments. This process of inner creativity - manifesting into outer forms -teaches lessons that will serve our Seniors as they venture out into the wider world to pursue their dreams in coming years.
It is a great joy for me to witness the various revelations that unfold through each 12th Grader as they come to know themselves more deeply in the History through Architecture block.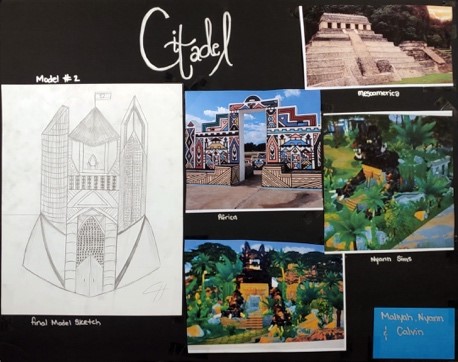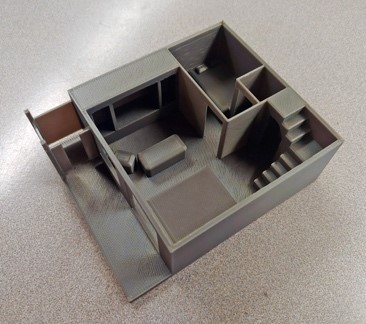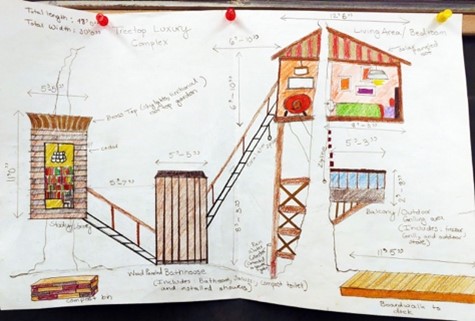 December 09, 2022
Research shows that field trips aren't just fun and disruptive "extras"; these trips have strong academic and behavioral benefits. A recent study showed that students who went on multiple field trips performed better academically and were less likely to miss school or have behavioral issues than their peers. Waldorf schools value engaging students with the world through hands-on experiences and have specific cultural, community service, and outdoor education trips built into our curriculum to further enrich and enliven our students' education!
This article was originally written by Paige Tutt and published in Edutopia
As a teacher, Elena Aguilar often looked for opportunities to get her students out of the classroom and into different neighborhoods or natural environments. "We did the usual museum trips and science center stuff, but I loved the trips which pushed them into unfamiliar territory," writes Aguilar, an instructional coach and author. Nudging kids out of their comfort zones, she says, "taught them about others as well as themselves. It helped them see the expansiveness of our world and perhaps inspired them to think about what might be available to them out there."
Aguilar's thinking made an impact: 15 years after traveling with her third-grade class to Yosemite National Park, a student contacted Aguilar on Facebook to thank her for the life-changing excursion. "You changed our lives with that trip," the student wrote. "It's what made me want to be a teacher, to be able to give that same gift to other kids."
As schools grapple with pandemic-related concerns about balancing in-seat instructional time with non-essentials like trips, new research published in The Journal of Human Resources argues that field trips, and the vital educational experiences that they provide—whether it's a visit to a local museum or a big commitment like Aguilar's national park trip—deliver a host of positive social and academic outcomes and are worth the effort.
"The pandemic should not keep schools from providing these essential cultural experiences forever," asserts Jay P. Greene, one of the study's co-authors and a senior research fellow at the Heritage Foundation, in an opinion piece for the Daily News. "If schools make culturally-enriching field trips an integral part of the education experience, all students—especially those whose parents have a harder time accessing these experiences on their own—would benefit."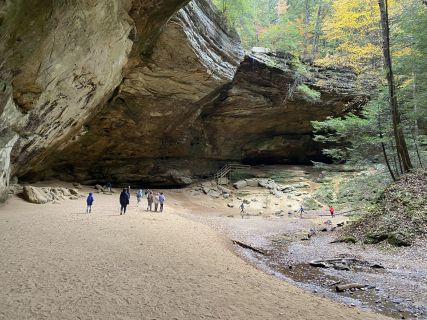 In the study, researchers assigned more than 1,000 fourth- and fifth-grade students in Atlanta to two groups. One group participated in three to six "culturally-enriching" field trips—visits to an art museum, a live theater performance, and a symphony concert—while students in the control group stayed put in class. The outcome? Kids in the field trip group "scored higher on end-of-grade exams, received higher course grades, were absent less often, and had fewer behavioral infractions," compared to students in the control group, according to a ScienceDaily brief. Benefits lasted two to three years, Greene writes, and were "most visible when students were in middle school."
"We are able to demonstrate that a relatively simple intervention—and we consider it pretty low-touch; three field trips in a year, maybe six field trips in two years—can actually have some substantial impacts," says lead study author Heidi Holmes Erickson in an interview with The 74. "They're not just limited to social benefits. It shows that smaller interventions can actually have some significant effects on academics as well."
Field trips aren't a threat to in-class instruction, Erickson notes, they're a tool to help bolster engagement and expand students' horizons. "It's possible to expose students to a broader world and have a culturally enriching curriculum without sacrificing academic outcomes, and it may actually improve academic outcomes," Erickson says. Far from harming test scores, the researchers found that culturally rich excursions reinforce academics and "students who participated in these field trips were doing better in class."
Meanwhile, class trips don't need to be elaborate productions to make an impact: small excursions outside the classroom—"low-touch," as the researchers call them—can pack a punch. Here's how three educators recommend dialing it back with low-stakes options that are both engaging and stimulating for students, but might not require days to prepare and plan: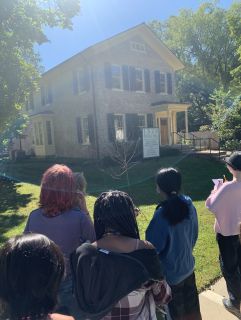 Make Them Bite-Sized: Instead of allocating an entire day to a field trip, educational consultant Laurel Schwartz takes her classes on micro field trips, or "short outings that can be completed in a single class period." These real-world encounters, she says, are especially beneficial for English learners and world language students. A micro field trip to a nearby park or around school grounds, for example, can be a great opportunity to "enhance a unit on nature and wildlife while reinforcing vocabulary for senses, colors, and the concepts of quantity and size," Schwartz writes. "Afterwards, students might write descriptive stories set in the place you visited using vocabulary collected and defined together by the class."
Try Teacher-Less Trips: To encourage exploration and learning outside of the classroom, former social studies teacher Arch Grieve removes himself from the equation with teacher-less field trips rooted in students' local communities. Grieve only suggests options that are directly tied to a unit being discussed in class—like attending a talk at a local university or visiting a museum or cultural festival—and offers extra credit to incentivize students. "These trips allow for a greater appreciation of my subject matter than is possible in the school setting, and perhaps best of all, there's little to no planning involved."
Explore Virtual Options: It may not be as fun as visiting in person, but the Internet makes it possible to visit museums like The National Gallery of London and The Vatican Museums without leaving the school building. Middle school English teacher Laura Bradley likes to search the Museums for Digital Learning website by topic, keyword, and grade level, to find lessons and activities that meet her unique curricular needs. The site grants access to digitized museum collections, 3D models, audio files, documents, images, and videos.