We believe that Waldorf education is uniquely suited to the journey of the adolescent. The task of teenagers is to discover their individual strengths, their unexpected passions, and their lifelong directions. High School students develop moral, intellectual and aesthetic capacities through focused inquiry in seminar-style classes taught by specialists. The depth and breadth of the curriculum creates thinkers with keen powers of observation, prepared for college and ready to meet the world.
At Rudolf Steiner High School, learning occurs on multiple levels. Both in the classroom and out in the world; with hands and eyes; through art, music and travel as much as reading, writing, and discussion. This gives our students an unlimited canvas on which to sketch their identities and envision their futures.
The RSHS curriculum is an academically-challenging college-preparatory program. Core academic lessons are offered in main lesson blocks of two hours per day for three to four weeks. In addition to their main lesson class, students take daily mathematics and world languages, art classes, choir and instrumental music and an additional subject lesson determined by grade. Our curriculum exceeds the requirements of the Michigan Merit Curriculum in all areas.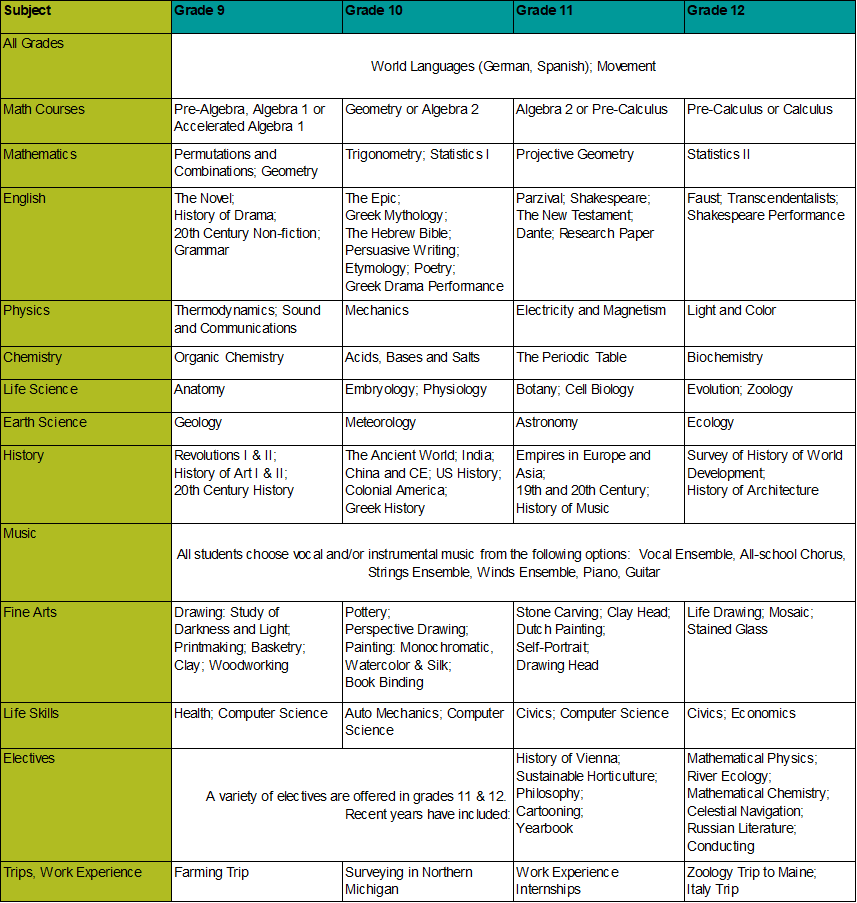 In addition to our outstanding curriculum, RSHS strives to offer each student a vibrant and memorable high school experience.
Outstanding Faculty
Our greatest resource is our experienced and talented faculty who continually challenge and inspire our students to draw upon their full academic talents, intellectual gifts and personal strengths. The heart of the RSHS experience is the authentic and meaningful relationship that our faculty develops with each and every individual student, supporting them in their growth toward adulthood.
Strong, Welcoming Community
High school is more than just a time for academic growth. At RSHS students are part of a strong and caring community where they can flourish as independent learners, developing adults and young leaders. Offering a full array of extracurricular activities, from competitive sports to Model United Nations to yearbook club, and regular school social events like dances and open mic nights, our staff and faculty shape a caring and supportive community where all students can find their place.
Interested in knowing more about graduates of Waldorf Education? The long-term Waldorf Graduate Study tracks results from 1943-2005.