Posts Tagged "development"
October 24, 2023
One of the best scientific predictors for how a child turns out in terms of happiness, academic success, and meaningful relationships is whether adults in their life consistently show up for them. Waldorf teachers strive to see and recognize each of their students, greeting them each morning individually, and working with them over multiple years to build on their unique strengths and meet their individual challenges so they can thrive.

This article was originally published by Daniel J. Siegel MD + Tina Payne Bryson PhD at https://ideas.ted.com/every-kid-needs-to-feel-seen-here-are-2-ways-you-can-do-this/
One way to set up a child for success: Take some time every day to really see them for who they are, not for who you want them to be.
Psychiatrist Daniel J. Siegel and Social worker Tina Payne Bryson.

One of the very best scientific predictors for how any child turns out — in terms of happiness, academic success, leadership skills, and meaningful relationships — is whether at least one adult in their life consistently shows up for them. And showing up doesn't take a lot of time or energy, according to psychiatrist Daniel J. Siegel and social worker Tina Payne Bryson. Instead, it just requires acting in ways that ensure a child feels the Four S's: Safe, Seen, Soothed and Secure. In this excerpt from their new book, The Power of Showing Up, Siegel and Bryson share two strategies that can make a child feel seen.
How good are you at seeing your kids? We mean really seeing them for who they are — perceiving them, making sense of them, and responding to them in timely and effective ways. This is how your child comes to experience the emotional sensation not only of belonging and of feeling felt, but also of being known.
Science suggests, and experience supports, that when we show up for our kids and give them the opportunity to be seen, they can learn how to see themselves with clarity and honesty. When we know our kids in a direct and truthful way, they learn to know themselves that way, too. Seeing our kids means that we ourselves need to learn how to perceive, make sense, and respond to them from a place of presence, to be open to who they actually are and who they are becoming, not who we'd like them to be and not filtered through our own fears or desires.
Take a moment and fast forward, in your mind, to the future when your child, now an adult, looks back and talks about whether he felt seen by you. Maybe he's talking to a spouse, friend or therapist, someone they'd be brutally honest with. Perhaps he's holding a cup of coffee, saying, "My mom, she wasn't perfect, but I always knew she loved me just as I was." Or, "My dad was always in my corner, even when I got in trouble."
Would he say something like that? Or would he talk about how his parents always wanted him to be something he wasn't, didn't take the time to understand him, or wanted him to act in ways that weren't authentic in order to play a particular role in the family or come across a certain way?
One of the worst ways we fail to see our children is to ignore their feelings. With a toddler, that might mean telling him, as he cries after falling down, "Don't cry. You're not hurt." Or, an older child might feel genuinely anxious about attending the first meeting of a dance class. It's unlikely she will feel more at ease if you say, "Don't worry about it — there's no reason to be nervous."
Yes, we want to reassure our kids, and to be there for them to let them know they'll be okay. But that's far different from denying what they're feeling, and explicitly telling them not to trust their emotions.
So instead, we want to simply see them. Notice what they're experiencing, then be there for them and with them. We might say something like, "You're going to be okay" or "Lots of people feel nervous on the first day. I'll be there until you feel comfortable."
When they feel felt and seen, it can create a sense of belonging as your child feels authentically known by you. She will also derive a sense of being both a "me" who is seen and respected and part of a "we"– something bigger than her solo self but that doesn't require a compromise or the loss of her sense of being a unique individual. This is how seeing your child sets the foundation for future relationships where they can be an individual who is also a part of a connection.
What's more, the empathy we communicate will be much more likely to create calm within our child. As is so often the case, when we show love and support, it makes life better not only for our child but for us as parents as well.
Strategy #1 for helping kids feel seen: Let curiosity lead you to take a deeper dive
A practical first step to helping our kids feel seen is just observe them — take the time to look at their behavior, discard preconceived ideas, and consider what's really going on with. But really seeing them often requires more than just paying attention to what's readily visible. Just as with adults, it's often the case with children that there's more going on beneath the surface than they let on. As parents, part of our responsibility is to dive deeper.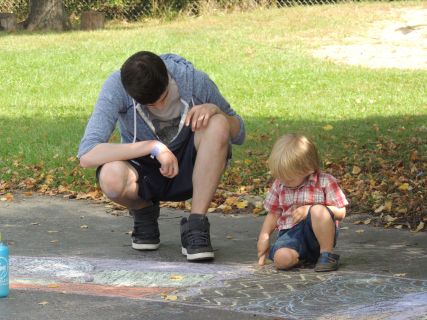 Practically speaking, that means being willing to look beyond your initial assumptions and interpretations about what's going on with your kids. It means taking an attitude of curiosity rather than immediate judgment.
This curiosity is key. It's one of the most important tools that a caring parent can use. When your toddler plays the "let's push the plate of spaghetti off the high chair" game, your initial response might be frustration. If you assume he's trying to press your buttons, you'll respond accordingly. But if you look at his face and notice how fascinated he is by the splatter on the floor and the wall, you might feel and respond differently.
Cognitive scientists Alison Gopnik, Andrew Meltzoff and Patricia Kuhl have written about "the scientist in the crib," explaining that a large percentage of what babies and young children do is part of an instinctual drive to learn and explore. If you can take a moment, pause and ask yourself, "I wonder why he did that?" If you see him as a young researcher who is gathering data as he explores this world, you can at the very least respond to his actions with intentionality and patience, even as you clean up his experiment.
We encourage parents to chase the "why" behind kids' behavior. By asking "Why is my child doing that?" rather than immediately labeling an action as "bad behavior," we're much more likely to respond to the action for what it is. Sometimes it really may be a behavior that should be addressed. We believe that children definitely need boundaries, and it's our job to teach them what's okay and what's not. But other times a child's action may come from a developmentally typical place, in which case it should be responded to as such.
The same goes for other behaviors. If your child is quiet when she meets an adult and resists speaking up, she may not be refusing to be well mannered; she may be feeling shy or anxious. Again, that doesn't mean you don't teach her social skills along the way or encourage her to learn to speak in situations that are uncomfortable. It just means you want to see her for where she is right now. What are the feelings behind the behavior? Chase the why and examine the cause of her reticence; then you can respond more intentionally and effectively.
Strategy #2 for helping kids feel seen: Make space and time to look and learn
Much about seeing our kids is simply paying attention during the day, but it's also about generating opportunities that allow your kids to show you who they are. Nighttime can be a great time to do this. There's something about the end of the day, when the home gets quiet and the body feels tired, when distractions drop away and defenses are down, that makes us more apt to talk about our thoughts and memories, our fears and desires. This goes for all of us, adults and kids.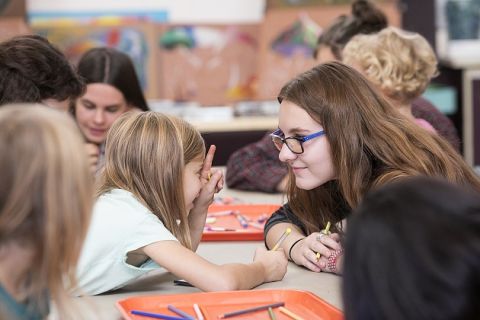 What's required is a bit of effort and planning in terms of the family schedule. Kids need an adequate amount of sleep — we can't stress that enough — so ideally you'll begin bedtime early enough to make time for your usual routine plus a few minutes of chat or quiet waiting time to allow your children to talk if they are inclined. They might share details of their day or ask questions that help you gain a fuller understanding of what's going on in their worlds — actual or imaginary.
We know what some of you are thinking: "I don't have one of those kids who willingly shares what they're thinking and feeling." We get it. The answer to the "How was your day" question seems to inevitably lead to the dreaded "Fine." Imagining a chat time added to your child's bedtime routine may produce the unpleasant image of you and your child silently lying next to each other, both of you waiting for something important to be shared.
We understand this concern. Keep in mind that the idea isn't that every evening you'll hear some earth-shattering revelation or deep exchange. That's not realistic between adults, much less with kids. What's more, it's not the goal. The ultimate aim is to be present to your children — to create space and time to get to know them better and to understand them at a deeper level so you can help them grow into the fullness of who they are.
If you have a child who doesn't eagerly share their inner thoughts, then you may need to ask more specific questions or pose ethical dilemmas you can consider together. The more you see and know your child, the easier this will become. At times, of course, silence is okay too. Being quiet together, simply breathing, can be intimate and connecting. So don't feel pressure to force conversation when it's not the right time.
We know it can be confusing, trying to determine what to say when and whether to encourage conversation or let things be quiet. But one of the best ways to see your kids — and to help them feel seen — is to create the space and time that cultivate opportunities for that kind of vision to take place.