How Kids Fall In Love With Reading
May 01, 2023
Since the 1980's there has been a double digit decline in the number of kids who say they read for pleasure. What accounts for this? A standardized test-driven shift towards textual analysis, where students increasingly are asked to dissect small and out-of-context segments of text, and where reading aloud and reading entire stories have fallen by the wayside. In Waldorf education, we take the opposite approach. We start with engaging the children's imaginations through storytelling and reading aloud. We know that love of reading starts with a love of stories, and that a love of reading opens up a lifetime love of learning.
This article was originally published in The Atlantic in March, 2023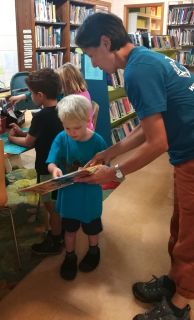 These days, when I explain to a fellow parent that I write novels for children in fifth through eighth grades, I am frequently treated to an apologetic confession: "My childdoesn't read, at least not the way I did." I know exactly how they feel—my tween and teen don't read the way I did either. When I was in elementary school, I gobbled up everything: haunting classics such as The Witch of Blackbird Pond and gimmicky series such as the Choose Your Own Adventure books. By middle school, I was reading voluminous adult fiction like the works of Louisa May Alcott and J. R. R. Tolkien. Not every child is—or was—this kind of reader. But what parents today are picking up on is that a shrinking number of kids are reading widely and voraciously for fun.
The ubiquity and allure of screens surely play a large part in this—most American children have smartphones by the age of 11—as does learning loss during the pandemic. But this isn't the whole story. A survey just before the pandemic by the National Assessment of Educational Progress showed that the percentages of 9- and 13-year-olds who said they read daily for fun had dropped by double digits since 1984. I recently spoke with educators and librarians about this trend, and they gave many explanations, but one of the most compelling—and depressing—is rooted in how our education system teaches kids to relate to books.
What I remember most about reading in childhood was falling in love with characters and stories; I adored Judy Blume's Margaret and Beverly Cleary's Ralph S. Mouse. In New York, where I was in public elementary school in the early '80s, we did have state assessments that tested reading level and comprehension, but the focus was on reading as many books as possible and engaging emotionally with them as a way to develop the requisite skills. Now the focus on reading analytically seems to be squashing that organic enjoyment. Critical reading is an important skill, especially for a generation bombarded with information, much of it unreliable or deceptive. But this hyperfocus on analysis comes at a steep price: The love of books and storytelling is being lost.
This disregard for story starts as early as elementary school. Take this requirement from the third-grade English-language-arts Common Core standard, used widely across the U.S.: "Determine the meaning of words and phrases as they are used in a text, distinguishing literal from nonliteral language." There is a fun, easy way to introduce this concept: reading Peggy Parish's classic, Amelia Bedelia, in which the eponymous maid follows commands such as "Draw the drapes when the sun comes in" by drawing a picture of the curtains. But here's how one educator experienced in writing Common Core–aligned curricula proposes this be taught: First, teachers introduce the concepts of nonliteral and figurative language. Then, kids read a single paragraph from Amelia Bedelia and answer written questions.
For anyone who knows children, this is the opposite of engaging: The best way to present an abstract idea to kids is by hooking them on a story. "Nonliteral language" becomes a whole lot more interesting and comprehensible, especially to an 8-year-old, when they've gotten to laugh at Amelia's antics first. The process of meeting a character and following them through a series of conflicts is the fun part of reading. Jumping into a paragraph in the middle of a book is about as appealing for most kids as cleaning their room.
But as several educators explained to me, the advent of accountability laws and policies, starting with No Child Left Behind in 2001, and accompanying high-stakes assessments based on standards, be they Common Core or similar state alternatives, has put enormous pressure on instructors to teach to these tests at the expense of best practices. Jennifer LaGarde, who has more than 20 years of experience as a public-school teacher and librarian, described how one such practice—the class read-aloud—invariably resulted in kids asking her for comparable titles. But read-alouds are now imperiled by the need to make sure that kids have mastered all the standards that await them in evaluation, an even more daunting task since the start of the pandemic. "There's a whole generation of kids who associate reading with assessment now," LaGarde said.
By middle school, not only is there even less time for activities such as class read-alouds, but instruction also continues to center heavily on passage analysis, said LaGarde, who taught that age group. A friend recently told me that her child's middle-school teacher had introduced To Kill a Mockingbird to the class, explaining that they would read it over a number of months—and might not have time to finish it. "How can they not get to the end of To Kill a Mockingbird?" she wondered. I'm right there with her. You can't teach kids to love reading if you don't even prioritize making it to a book's end. The reward comes from the emotional payoff of the story's climax; kids miss out on this essential feeling if they don't reach Atticus Finch's powerful defense of Tom Robinson in the courtroom or never get to solve the mystery of Boo Radley.
Not every teacher has to focus on small chunks of literature at the expense of the whole plot, of course. But as a result of this widespread message, that reading a book means analyzing it within an inch of its life, the high/low dichotomy that has always existed in children's literature (think The Giver versus the Goosebumps series) now feels even wider. "What do you call your purely fun books for kids?" a middle-grade author recently asked on Twitter. A retired fifth-grade teacher seemed flummoxed by the question: "I never called a book a fun book," she wrote. "I'd say it's a great book, a funny book, a touching book … So many books ARE fun!!"
And yet the idea that reading all kinds of books is enjoyable is not the one kids seem to be receiving. Even if most middle schoolers have read Diary of a Wimpy Kid, it's not making them excited to move on to more challenging fare. Longer books, for example, are considered less "fun"; in addition, some librarians, teachers, and parents are noticing a decline in kids' reading stamina after the disruption of the pandemic. You can see these factors at play in a recent call for shorter books. But one has to wonder whether this is also the not-entirely-unsurprising outcome of having kids interact with literature in paragraph-size bites.
We need to meet kids where they are; for the time being, I am writing stories that are shorter and less complex. At the same time, we need to get to the root of the problem, which is not about book lengths but the larger educational system. We can't let tests control how teachers teach: Close reading may be easy to measure, but it's not the way to get kids to fall in love with storytelling. Teachers need to be given the freedom to teach in developmentally appropriate ways, using books they know will excite and challenge kids. (Today, with more diverse titles and protagonists available than ever before, there's also a major opportunity to spark joy in a wider range of readers.) Kids should be required to read more books, and instead of just analyzing passages, they should be encouraged to engage with these books the way they connect with "fun" series, video games, and TV shows.
Young people should experience the intrinsic pleasure of taking a narrative journey, making an emotional connection with a character (including ones different from themselves), and wondering what will happen next—then finding out. This is the spell that reading casts. And, like with any magician's trick, picking a story apart and learning how it's done before you have experienced its wonder risks destroying the magic.