Posts Tagged "drawing"
March 01, 2023
History through Architecture is a culminating course in the K-12 journey of Waldorf Education. It is a sweeping survey that traces the development of human consciousness over millennia from the earliest times to the present, including speculations about what the future may hold for our collective lives on Earth. Through this year's special block, our 12th Graders explored their unique places in the long line of other human beings who have come before them. They began to see themselves with new eyes as they related to the larger human story.
The vehicle for their experience is what we call Architecture…a kind of "memory chip" that holds a rich tapestry of data points logged from all aspects of humanity – iconic facets that have imbued the "bricks-and-mortar" of buildings, cities, landscapes and human-made systems with the zeitgeist or spirit of the age in which they were manifested. Specific teachings in this block have been artfully designed to showcase how human ingenuity advanced with each succeeding generation. New ideas imaginatively evolved to produce structures, materials, energy and metaphysical awareness that created all our structures from simple barrow mounds of earliest human settlements to the soaring skyscrapers of our modern world. All of them imbued with an inner force – a seeking for higher awareness – what we term today a "spiritual experience".

Colorful, hand-drawn chalkboards of chronological, step-by-step timelines showed how passive and dynamic forces of compression and tension moved across time to shape clay, stone, brick, metal, glass and myriad other materials and processes into the infinitely varied forms that we see in our material world. Concepts of "boundary" and "monument" drove the construction of fences, walls for protection from weather and wild animals, but also marked personal identity – whether for an individual or for tribes and clans, where the "I" became a "we".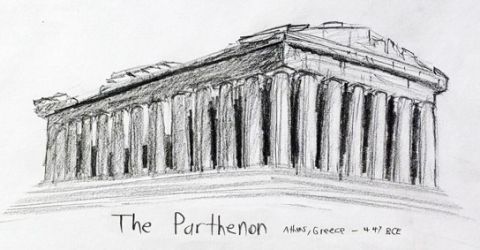 The students hand drew and wrote the salient points of the block into their Main Lesson books. Applying their innate Creativity and Imagination, they recorded the content of their learning. Some exercises were given to demonstrate how historic structures could be shown in plan, section and in three dimensions for learning how buildings are represented.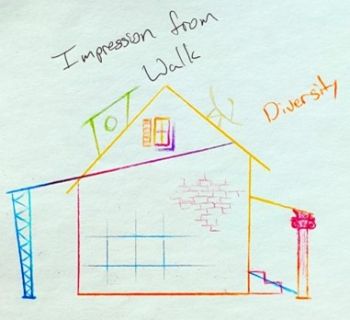 Other exercises engage the students' personal observations and imaginations. For example, an "Impression/Expression" exercise was assigned for an outside walk taken through the Pontiac Trail neighborhood during one class period. Each student observed a particular perception along the way (a house, a tree, the rhythm of structures, a door or window detail, etc.) that impressed them. Returning to school, some form of expression was made from memory that described the nature of the student's experience.
We contrasted challenging Thinking of the block's first week with a Clay Handwork exercise that explored the curved line under the force of compression that freed the student's imagination.
In the second week, Wooden Sticks Handwork created a new experience reflecting the advent of the straight-line forces of tension in history that led to developing open-structured trusses.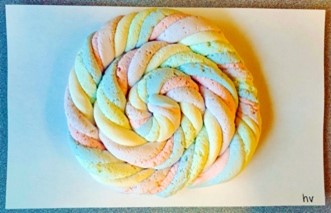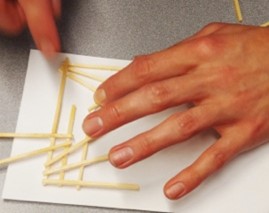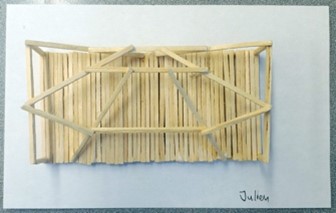 Toward the end of the block, after experiencing the great diversity of human structures built throughout history, students were given a final project where they were asked to design their own "architecture". The day the assignment was given, this year's Seniors immediately jumped into action, eagerly discussing possibilities and ideas for their individual or group to develop.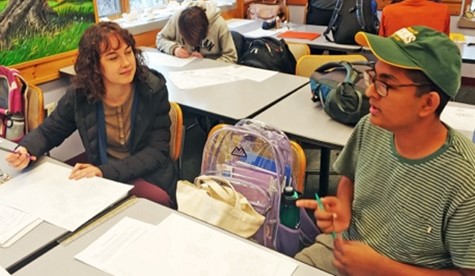 Over several days, students collaborated, talking and sketching ideas until a final design became clear. Every student prepared a statement, drawings, or a model to describe their vision. They then stood before their classmates and presented unique designs which inspired thoughtful questions and comments. This process of inner creativity - manifesting into outer forms -teaches lessons that will serve our Seniors as they venture out into the wider world to pursue their dreams in coming years.
It is a great joy for me to witness the various revelations that unfold through each 12th Grader as they come to know themselves more deeply in the History through Architecture block.