Posts Tagged "travel"
December 09, 2022
Research shows that field trips aren't just fun and disruptive "extras"; these trips have strong academic and behavioral benefits. A recent study showed that students who went on multiple field trips performed better academically and were less likely to miss school or have behavioral issues than their peers. Waldorf schools value engaging students with the world through hands-on experiences and have specific cultural, community service, and outdoor education trips built into our curriculum to further enrich and enliven our students' education!
This article was originally written by Paige Tutt and published in Edutopia
As a teacher, Elena Aguilar often looked for opportunities to get her students out of the classroom and into different neighborhoods or natural environments. "We did the usual museum trips and science center stuff, but I loved the trips which pushed them into unfamiliar territory," writes Aguilar, an instructional coach and author. Nudging kids out of their comfort zones, she says, "taught them about others as well as themselves. It helped them see the expansiveness of our world and perhaps inspired them to think about what might be available to them out there."
Aguilar's thinking made an impact: 15 years after traveling with her third-grade class to Yosemite National Park, a student contacted Aguilar on Facebook to thank her for the life-changing excursion. "You changed our lives with that trip," the student wrote. "It's what made me want to be a teacher, to be able to give that same gift to other kids."
As schools grapple with pandemic-related concerns about balancing in-seat instructional time with non-essentials like trips, new research published in The Journal of Human Resources argues that field trips, and the vital educational experiences that they provide—whether it's a visit to a local museum or a big commitment like Aguilar's national park trip—deliver a host of positive social and academic outcomes and are worth the effort.
"The pandemic should not keep schools from providing these essential cultural experiences forever," asserts Jay P. Greene, one of the study's co-authors and a senior research fellow at the Heritage Foundation, in an opinion piece for the Daily News. "If schools make culturally-enriching field trips an integral part of the education experience, all students—especially those whose parents have a harder time accessing these experiences on their own—would benefit."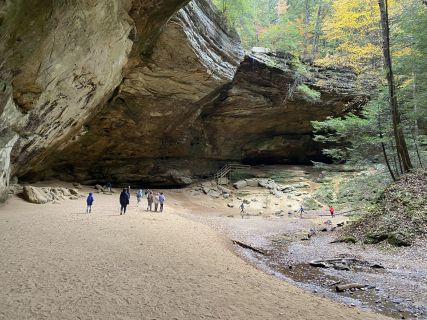 In the study, researchers assigned more than 1,000 fourth- and fifth-grade students in Atlanta to two groups. One group participated in three to six "culturally-enriching" field trips—visits to an art museum, a live theater performance, and a symphony concert—while students in the control group stayed put in class. The outcome? Kids in the field trip group "scored higher on end-of-grade exams, received higher course grades, were absent less often, and had fewer behavioral infractions," compared to students in the control group, according to a ScienceDaily brief. Benefits lasted two to three years, Greene writes, and were "most visible when students were in middle school."
"We are able to demonstrate that a relatively simple intervention—and we consider it pretty low-touch; three field trips in a year, maybe six field trips in two years—can actually have some substantial impacts," says lead study author Heidi Holmes Erickson in an interview with The 74. "They're not just limited to social benefits. It shows that smaller interventions can actually have some significant effects on academics as well."
Field trips aren't a threat to in-class instruction, Erickson notes, they're a tool to help bolster engagement and expand students' horizons. "It's possible to expose students to a broader world and have a culturally enriching curriculum without sacrificing academic outcomes, and it may actually improve academic outcomes," Erickson says. Far from harming test scores, the researchers found that culturally rich excursions reinforce academics and "students who participated in these field trips were doing better in class."
Meanwhile, class trips don't need to be elaborate productions to make an impact: small excursions outside the classroom—"low-touch," as the researchers call them—can pack a punch. Here's how three educators recommend dialing it back with low-stakes options that are both engaging and stimulating for students, but might not require days to prepare and plan: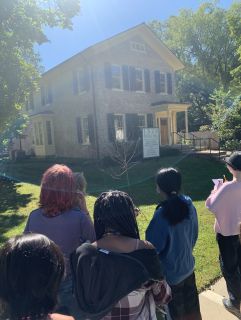 Make Them Bite-Sized: Instead of allocating an entire day to a field trip, educational consultant Laurel Schwartz takes her classes on micro field trips, or "short outings that can be completed in a single class period." These real-world encounters, she says, are especially beneficial for English learners and world language students. A micro field trip to a nearby park or around school grounds, for example, can be a great opportunity to "enhance a unit on nature and wildlife while reinforcing vocabulary for senses, colors, and the concepts of quantity and size," Schwartz writes. "Afterwards, students might write descriptive stories set in the place you visited using vocabulary collected and defined together by the class."
Try Teacher-Less Trips: To encourage exploration and learning outside of the classroom, former social studies teacher Arch Grieve removes himself from the equation with teacher-less field trips rooted in students' local communities. Grieve only suggests options that are directly tied to a unit being discussed in class—like attending a talk at a local university or visiting a museum or cultural festival—and offers extra credit to incentivize students. "These trips allow for a greater appreciation of my subject matter than is possible in the school setting, and perhaps best of all, there's little to no planning involved."
Explore Virtual Options: It may not be as fun as visiting in person, but the Internet makes it possible to visit museums like The National Gallery of London and The Vatican Museums without leaving the school building. Middle school English teacher Laura Bradley likes to search the Museums for Digital Learning website by topic, keyword, and grade level, to find lessons and activities that meet her unique curricular needs. The site grants access to digitized museum collections, 3D models, audio files, documents, images, and videos.
June 21, 2022
Is it safe? Will they make good choices? What if something happens? Will they meet nice people?
These are just a few of the questions that might pop up when considering allowing your teen to travel - and they're all valid and worthy of discussion. But a question that might be even more important is, what will they learn? For parents, the educational aspect of travel is most likely the biggest reason why they send their kids on an overseas educational program with their school, like our senior trip to Italy. But what about travel with non-school groups - or even solo travel - for teens?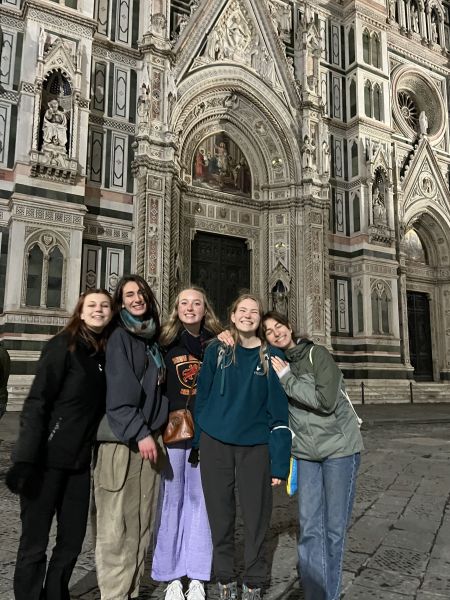 Traveling is the moment when the textbook comes alive, when everyday objects look completely different and when common greetings sound exotic. For teens, traveling abroad is exhilarating, stimulating, frustrating and—whether they're looking for it or not—extremely educational. Experts say that the educational benefit for teens goes far beyond learning historical facts, architectural styles, conversational phrases and even a working knowledge of a foreign subway system. Travel is an excellent way for students to develop the vital skills like critical thinking and problem solving that will enable them to compete in an increasingly globally interdependent economy.
"I think the biggest thing travel does for teens is to help them to see beyond their own somewhat limited world and to see how other people live," says Christine Schelhas-Miller, who taught adolescent development at Cornell University for many years and is the co-author of Don't Tell Me What to Do, Just Send Money: The Essential Parenting Guide to the College Years.
Travel is particularly good for developing critical thinking as it forces teens to examine their own values and beliefs from the perspective of a different culture. They become aware of aspects of their lives that they have taken for granted and never examined. - Christine Schelhas-Miller
Improvement in critical-thinking skills can translate into big gains in the classroom. Travel can help students develop all of what educators call the 4 Cs (critical thinking and problem solving, communication, collaboration, and creativity and innovation), says Dr. Jessie Voigts, who has a PhD in international education and runs wanderingeducators.com, a global community of educators sharing travel experiences.
"Travel encourages critical thinking (especially when comparing intercultural differences), problem solving (in so many ways—money, transportation, food, events, cultures, languages, etc.) and communication (both verbal and non-verbal, which is key to any communication event, globally)," says Voigts, author of Bringing the World Home: A Resource Guide to Raising Intercultural Kids. "It also encourages collaboration (working together with your travel partners or locals to fulfill your basic needs), creativity (finding a creative solution to a travel problem) and innovation (whether it's a way to hold your luggage together with whatever is on hand or finding a new route in an unfamiliar town past a parade to get where you need to go)." And, through these experiences, teens are becoming more flexible and adaptable along the way, two more skills that are essential in the 21st Century's virtual workplace.
Our kids face an entirely different world than that of their parents and grandparents. They need more than school and college to get a job. They need to learn flexibility, adaptability, and other skills to succeed in today's global economy. Our coworkers and neighbors are no longer just next door, but all around the world.
Traveling—not just being a tourist, but smart travel—helps teens learn flexibility and adaptability, and creates an open-minded worldview that allows teens to work well with others anywhere in the world." - Dr. Jessie Voigts
It may take teens—and their parents—some time to realize that they have gained all of these skills from their travels abroad. But it probably won't take anyone long to figure out that these teens have learned a lot about something very close to home: themselves. Unexpected events always happen to travelers and, when faced with these events without an adult to guide them, teens develop problem-solving skills and confidence in their abilities to manage their lives. When teens travel, they expect to learn so much about the other country, but may also make some important self-discoveries along the way.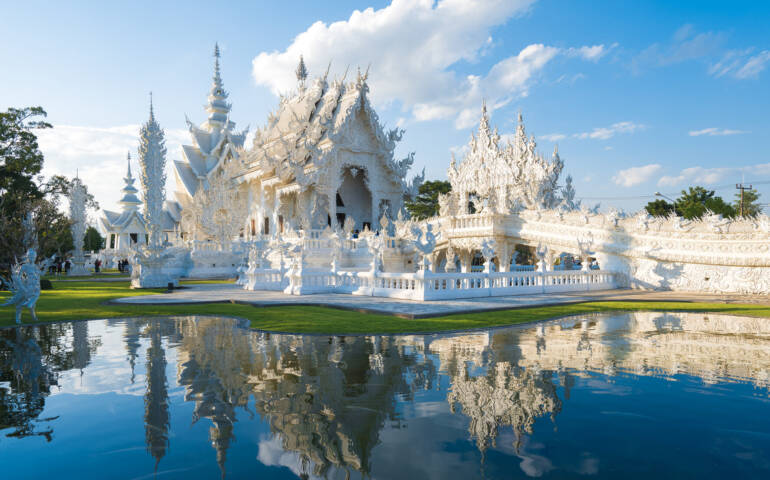 Some Life Benefits of Traveling as a Teenager:
Learn How to Save and Budget Money - Sure, learning about money starts at a young age, but there is real-life experience and deferred gratification in saving up all school year for an extended trip that a teen can proudly say that they paid for. Plus there's the skill of budgeting throughout the trip.
Ability to Make an Itinerary - Itineraries are just as dynamic as the places visited and this will reflect upon your teens travels no matter where they venture. They'll build flexibility when they need to make and change their itinerary so they can have the best experience possible.
Build Problem-solving Skills - World travel wouldn't be complete without the occasional bump in the road. Dealing with problems like pouring rain when the forecast predicted sun or a broken suitcase zipper will make them a savvy problem-solver as they work through predicaments proactively and positively rather than allowing them to spoil the trip.
Become an Independent and Responsible Young Person - When traveling around with family and friends, it's super easy to follow their lead and let others take care of things like tickets, transportation, meals, itineraries, etc. – The list goes on and on. Traveling without the familiarity of people from home means your teen will need to take more responsibility for their own actions, as well as look out for those they are with. This means showing up prepared, making the effort to participate, and being accountable throughout the trip.
Break Stereotypes and Experience New Cultures - Unfortunately, people are often quick to believe stereotypes about other countries and their cultures, especially the negative ones. This is true of Americans' views of overseas destinations, as well as other countries negative perceptions of Americans. When traveling, your teen will have the opportunity to break this cycle by keeping an open mind and an open heart and sharing everything that it means to be a global citizen.
While every family and every teen is unique, when it comes to travel it's possible the pros outweigh any cons. Traveling teaches meaningful life skills, provides an opportunity to meet new people, facilitates cultural appreciation, and teaches the ability to adapt to new environments. Travel is a fantastic way of gaining these unique experiences which develop youth into more well-rounded citizens, all while having fun along the way!
May 03, 2022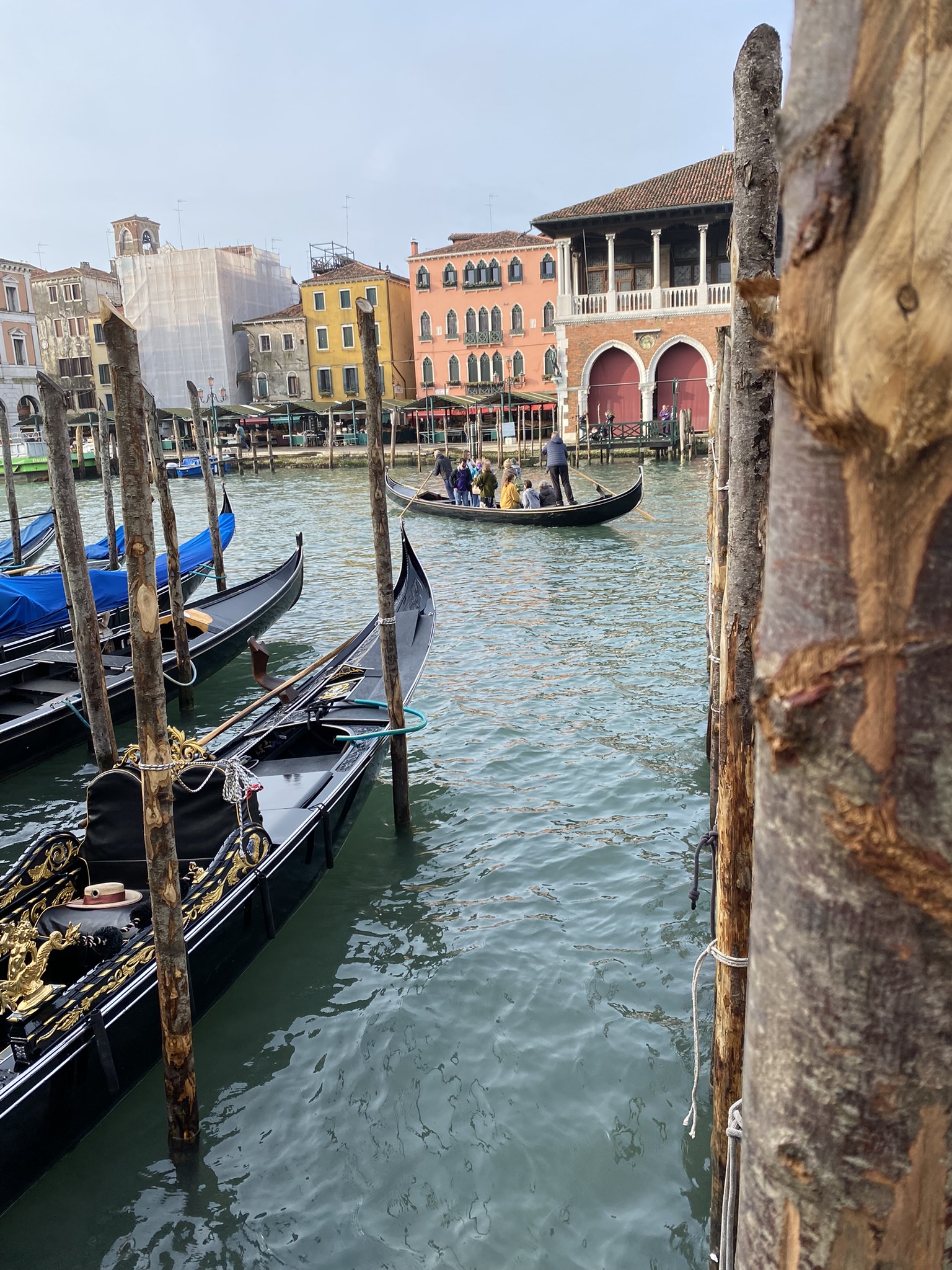 The 12th grade Italy trip has been a fixture at our high school since 2001. That's 20 years of incoming students looking forward to it before they ever set foot on our campus! Our high school Humanities and Art departments are in charge of this experience, which focuses on Art and Art History.
Despite the trepidation we all felt in planning for this trip during the ongoing pandemic, after two years without it we felt more sure than ever about the value of this capstone experience to our senior students, and we charged ahead. It took many months to plan and we had multiple scares with the vagaries of the flight and tour schedules, the worry over possible loss of accommodations due to COVID, and the additional work of verifying and collecting vaccination information and ongoing COVID testing for all students and chaperones, but everything fell into place. Before departing, students had a week and a half of intense preparation where they learned in-depth history and the curriculum context of the places they would visit, as well as some Italian phrases. They also had some time to practice live sketching. The careful planning of the trip - both curricularly and logistically - paved the way for a smooth and enriching experience for all the students.
The trip was seven nights: three in Venice, two in Florence, and two in Rome. Students visited important art and historical sites and were required to capture their trip via drawings and written reflections in their sketchbooks.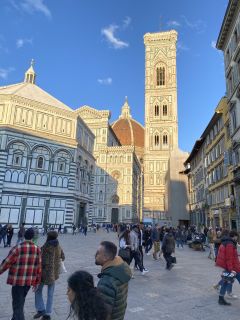 Upon their return, each student highlighted a meaningful Italy moment during an all-school assembly, including:
Being outside of the USA for the first time and experiencing all the differences and surprises
Going on group night walks in Venice and seeing the difference between the busy day time and serene night time
Experiencing St. Peters Basilica at the Vatican
Seeing everything we learned in Art History class up close
The many androgynous-looking statues beautifully displayed in The Uffizi
Climbing up the Campanile (belltower) in Florence and seeing how beautiful the city looks
Walking in the footsteps of the many great artists we learned about in school
Seeing Botticelli's The Birth of Venus in real life
Touring the Roman Forum with our guide, Francesca, and reliving ancient Rome
The restaurants, convents, and hotels where our school has long standing relationships
We are thrilled that the students were able to have these experiences after the disappointment of the canceled trips in 2020 and 2021. The Italy trip, like all of our school trips, is an opportunity for growth unlike what most students have in their day-to-day classes and extracurricular activities. Our class of 2022 students jumped at the chance to experience another culture, to see different ways of conducting daily life, and to consider a different, and much longer, sense of time through the history around them. Our wish is that they continue to lean in to the curiosity they have developed in high school so that they can keep learning and growing.
Join us for an in-depth look at the trip itself in our next Look A Little Deeper blog post!